A local and metropolitan project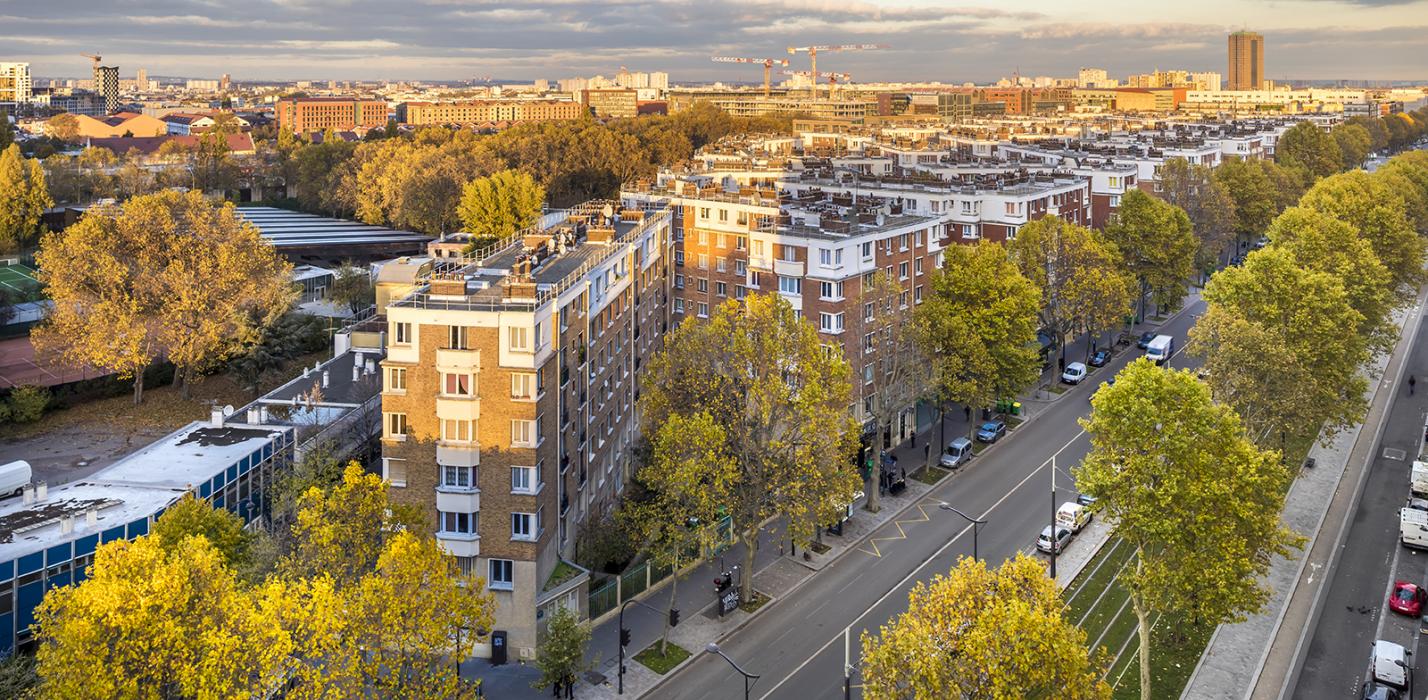 ZAC Gare des Mines–Fillettes covers 20 ha on both sides of the Boulevard Périphérique (ring road), between Porte d'Aubervilliers and Porte de la Chapelle. Within its perimeter are, in the north sector, the former rail yards (Gare des Mines), and, in the south sector, the Charles Hermite neighbourhood, as well as several sports facilities, including the Espace de Glisse Parisien (EGP 18) for boardsports. The project addresses multiple convergent challenges: ecological transition, economic and social development, urban renewal, overcoming the barrier created by the Boulevard Périphérique, better concentration of urban functions and facilities, and transformation of the interchanges (portes) into public squares connecting Paris with the neighbouring towns. The site will host the future Arena for the Paris 2024 Olympic Games.
Project stakeholders :
- City of Paris 
- Master plan Paris Nord-Est : Leclercq Associés
- Developer of the ZAC  : Paris & Métropole Aménagement
- Urban project management team : Michel Devigne landscape designer, project manager, LIN / Particules, urban designers, Une Fabrique de la Ville, urban planning and projects, Ingerop, (engineering consulting firm), roads and utilities, stormwater management, mobility, BIM-CIM, Urban Eco, ecology, 8'18'', lighting design, Jean-Paul Lamoureux, acoustics 
News
Gare des Mines - Fillettes événement

20.08.2022

Gare des Mines - Fillettes info chantier

Gare des Mines - Fillettes événement

30.06.2022
Urban context
The Paris Nord-Est project, covering 600 ha north of the Gare du Nord and Gare de l'Est railway stations, is organising urban renewal in a host of neighbourhoods as well as the transformation of the logistics and technical service areas along the rail lines. It aims to create a metropolitan core of international stature that is smart, sustainable and inclusive. It is being gradually implemented through a number of development operations guided by a master plan that ensures overall consistency. They are scheduled for completion by 2030.

The Gare des Mines–Fillettes urban development zone (ZAC) is in the immediate vicinity of other operations in progress, including Ordener – Poissonniers, Campus Condorcet, Chapelle
Charbon, Chapelle International Hébert and Triangle Éole Évangile. The developments will contribute to the transformation of Porte de la Chapelle and Porte d'Aubervilliers into public
squares of metropolitan importance.
Timeline and programme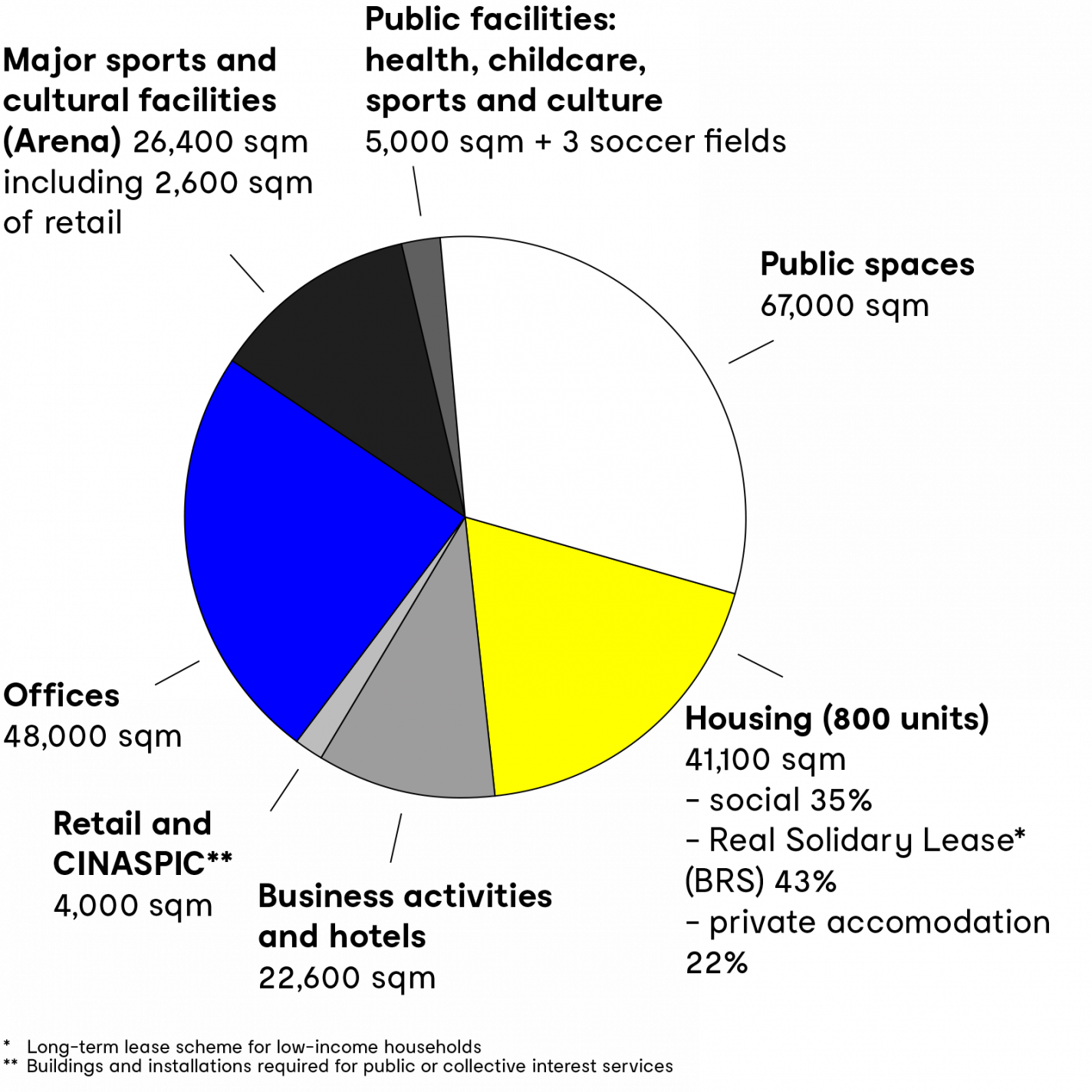 National facilities

Major sports and
cultural facility (Arena)
26,400 sq.m.

Public spaces

67,000 sq.m.
Immobilier

| | |
| --- | --- |
| Housing units | 41,100 sq.m. |
| Retail and services | 4,000 sq.m. |
| Business activities and hotels | 22,600 sq.m. |
| Public facilities: sports, childcare, health and culture | 5,000 sq.m. + 3 soccer fields |
| Offices | 48,000 sq.m. |
Public transport

Existing
Metro line M12
RER E
Tramway T3b 
A densely vegetated public space
The Forêt Linéaire, of the Paris Nord-Est project is a vast, densely vegetated public space serving as the backbone and focal point of the neighbourhood. It embodies the urban renewal process, uniting the various elements, overcoming the infrastructure barriers and better integrating the district in the larger territory.
"We want to create a strong composition with the right proportions to give splendour to this space through the architecture, the meticulous design of a continuous ground
surface, the generous use of vegetation and the relevant uses of public spaces."
Michel Desvigne, leader of the urban project management team
Documentation
Gare des Mines - Fillettes

Gare des Mines - Fillettes's brochure

26.02.2020 Editions 7.58 MB