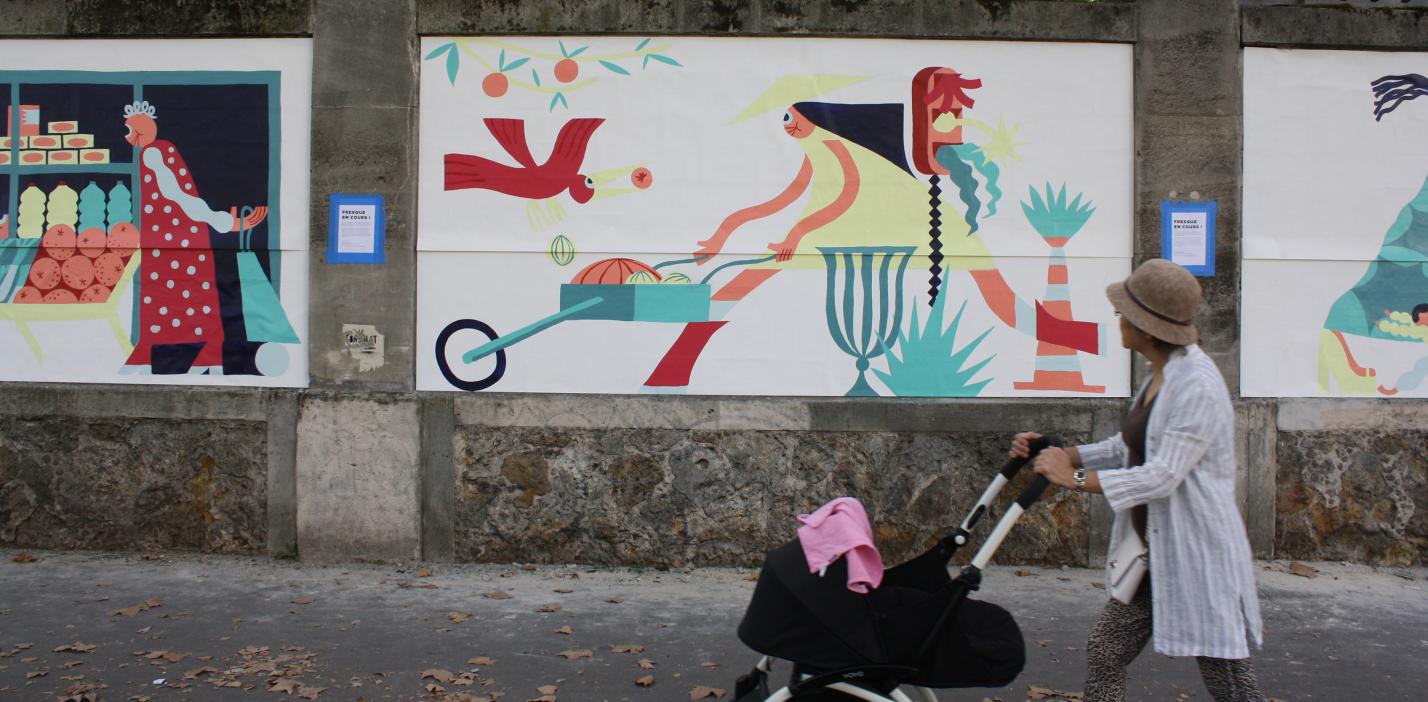 The future Saint-Vincent-de-Paul neighbourhood is being developed on a centuries-old site, a former novitiate that was converted to a maternity and children's hospital, which remained in operation until 2012. Halfway between the transport hubs of Denfert Rochereau and Port Royal, it enjoys an exceptional environment in the heart of the 14th arrondissement in Paris, surrounded by the gardens of religious congregations, the Observatoire de Paris and the Cartier Foundation, an outstanding centre for contemporary art.
As a former hospital now destined to become a residential neighbourhood, Saint-Vincent-de-Paul earned a positive and inclusive image among Parisians, even before the development project began. It has been home to various socially inclusive and creative temporary occupation schemes since 2012, starting with Les Grands Voisins. Paris & Métropole Aménagement, the developer appointed by the City of Paris, has embarked on transforming the area while maintaining its characteristically innovative, sustainable
and inventive spirit.
Another kind of Paris
Picturing the future, citizens' participation and ecological transition are the three pillars of a new kind of urban development in Paris that are now embodied in the Saint-Vincent-de-Paul project.
With its social diversity, accessible public spaces, and promotion of artisanal skills and the social and inclusive economy, the temporary occupation has extended and updated the site's hospital tradition. The future neighbourhood is aiming to capture the same spirit.
This ambition is reflected in the consultations organised by Paris & Métropole Aménagement, which explore the needs of a collaborative city, involving users directly in selecting and developing various projects and how they are managed.
The project also reflects a desire to speed up the ecological transition through innovation and experimentation on all aspects of the sustainable city, including local production of renewable energy, alternative transport, biodiversity, water management, the circular economy, etc. 
Espace d'information :
L'Oratoire, 74, avenue Denfert Rochereau, 75014 Paris
Before / After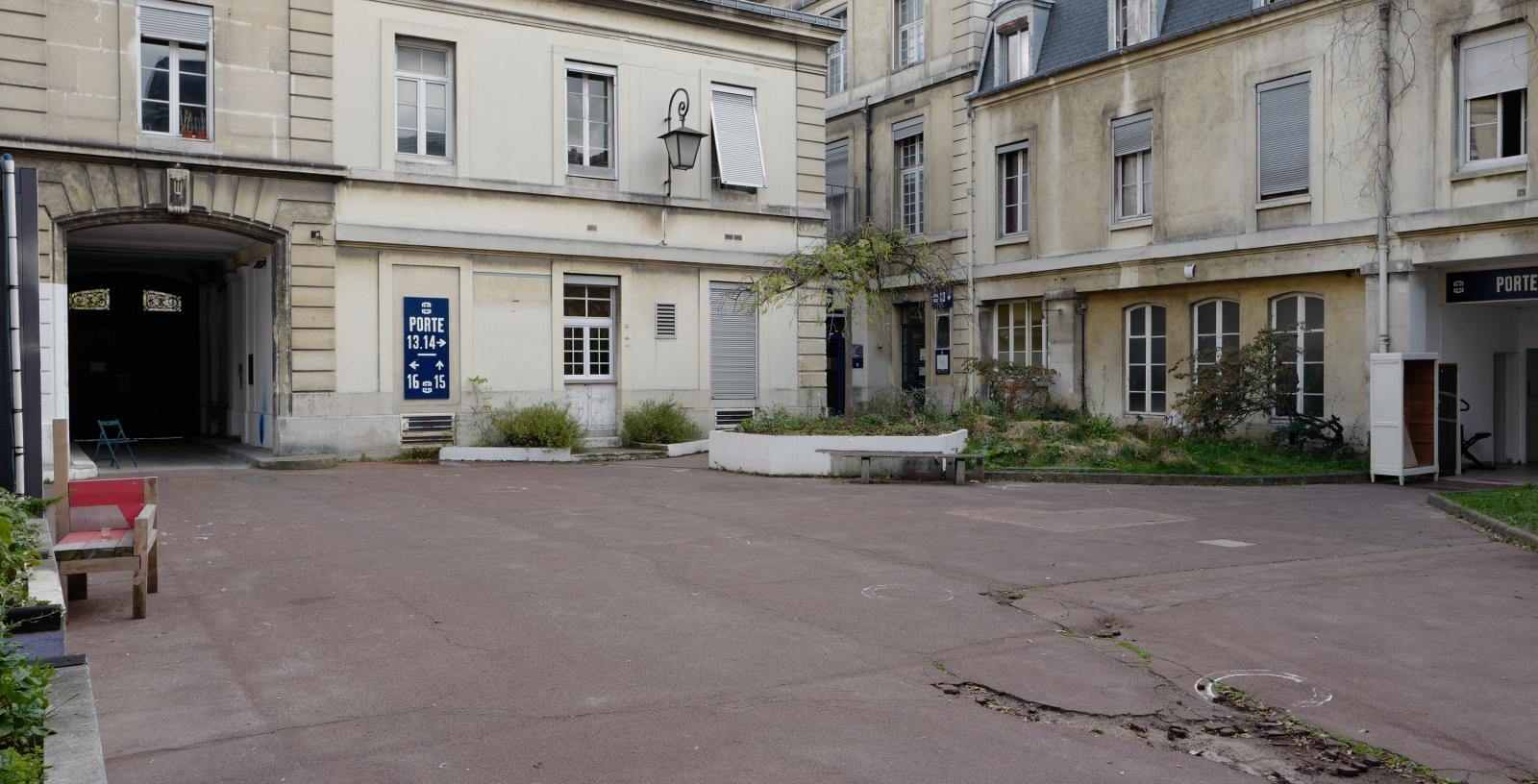 News
Saint-Vincent-de-Paul événement

7.10.2022

Saint-Vincent-de-Paul événement

14.06.2022

Saint-Vincent-de-Paul actualité
Urban context
The future Saint-Vincent-de-Paul district takes place in a centuries-old site, a former novitiate successively transformed into a foundling hospice, then an infant hospital and maternity hospital. It is located equidistant from the Denfert Rochereau and Port Royal transport hubs. It enjoys an exceptional setting, in the heart of Paris, framed by gardens of religious congregations, and the Paris observatory opposite. With the creation in 1994 of the Fondation Cartier on boulevard Raspail, the site has become adjoining an international hotspot for contemporary art.
Temporary occupation
Two successive phases of investment in the site (2012-2015 and 2015-2017) prior to its final transformation were organized, thanks to the joint involvement of the Aurore association, the first organization to move in, Yes We Camp and the cooperative Plateau Urbain, which came together in the Les Grands Voisins initiative.
Les Grands Voisins developed and breathed new life into the site to make it a welcoming place to live and work. This "factory of the common good" has also explored and instigated new ways of urban living, which are more inclusive, more sustainable and more responsible, as well as friendlier and pleasanter. A cinema, sports courses, world cooking and arts events have all been set up here, along with regular public debates, markets, etc., which have attracted people from the wider area. It is now a desirable destination.
A second 'picturing the future' phase (2018-2020) is now continuing for them in a smaller area, in close dialogue with the City of Paris, the town hall in the 14th arrondissement and P&Ma. 
- William Dufourcq, directeur association Aurore
- Simon Laisney, directeur général Plateau Urbain
- Nicolas Détrie, directeur Yes We Camp
Urban design principles
Urban project manager Anyoji Beltrando has created a dialogue on the historic site between the built heritage, 60% of which has been retained, including the characteristic basement courtyards, and four contemporary blocks. All sit within a landscaped frame based on a central crossing, a green space of 4,000 sqm, connected to a single peripheral traffic loop designed as a "meeting place".
Saint-Vincent-de-Paul Hospital was established from the 18th to the end of the 20th century by successive additions of buildings. At the end of its activity in early 2012, it presents itself as a collection of emblematic architectures from each period of the site's development. The project mainly preserves and renovates this heritage. The Lelong, Pinard, Maison des Médecins, Lingerie, Oratoire and Robin buildings will be preserved and renovated.

The new Petit, Chaufferie, Denfert and Lepage islets are all opportunities for architectural creation. Their designers, selected after consultations, will seek a contemporary expression coexisting with the architectural heritage of the site. It will favor sober and bio-sourced materials, such as brick, already widely used in previous decades by the hospital architecture of Saint-Vincent-de-Paul.

A circular lane, with single access from avenue Denfert Rochereau, provides access to the site. It is designed as a "meeting zone" where vehicles do not exceed a speed of 20 km / h and share space with pedestrians and bicycles. The latter have three dedicated accesses, from avenue Denfert Rochereau via the cours Robin and the Oratory, and along the future Lepage building, towards rue Boissonade.

The two perpendicular central aisles of the old hospital are transformed into a green, landscaped and pedestrian space. This 4,000 sq.m. crossing offers residents and visitors of the district a living space that can be freely appropriated. Numerous rights-of-way called "spaces of possibilities" will be co-designed with users and future residents.

To optimize the spaces of the former Saint-Vincent-de-Paul hospital, laboratories in the first basement were fitted out, lit and naturally ventilated by English courtyards. These atypical spaces now have interesting potential for hosting cultural, associative, creative activities ... The new buildings in the district will also adopt them.

The project renovates this 1934 building complex and converts it into a public facility bringing together a nursery, a school group and a gymnasium. Outside of their usual operating hours, this equipment will open some of their common spaces, such as the courtyards, the refectory, or the roofs, to the inhabitants and residents of the district for associative and convivial uses.
Timeline and programme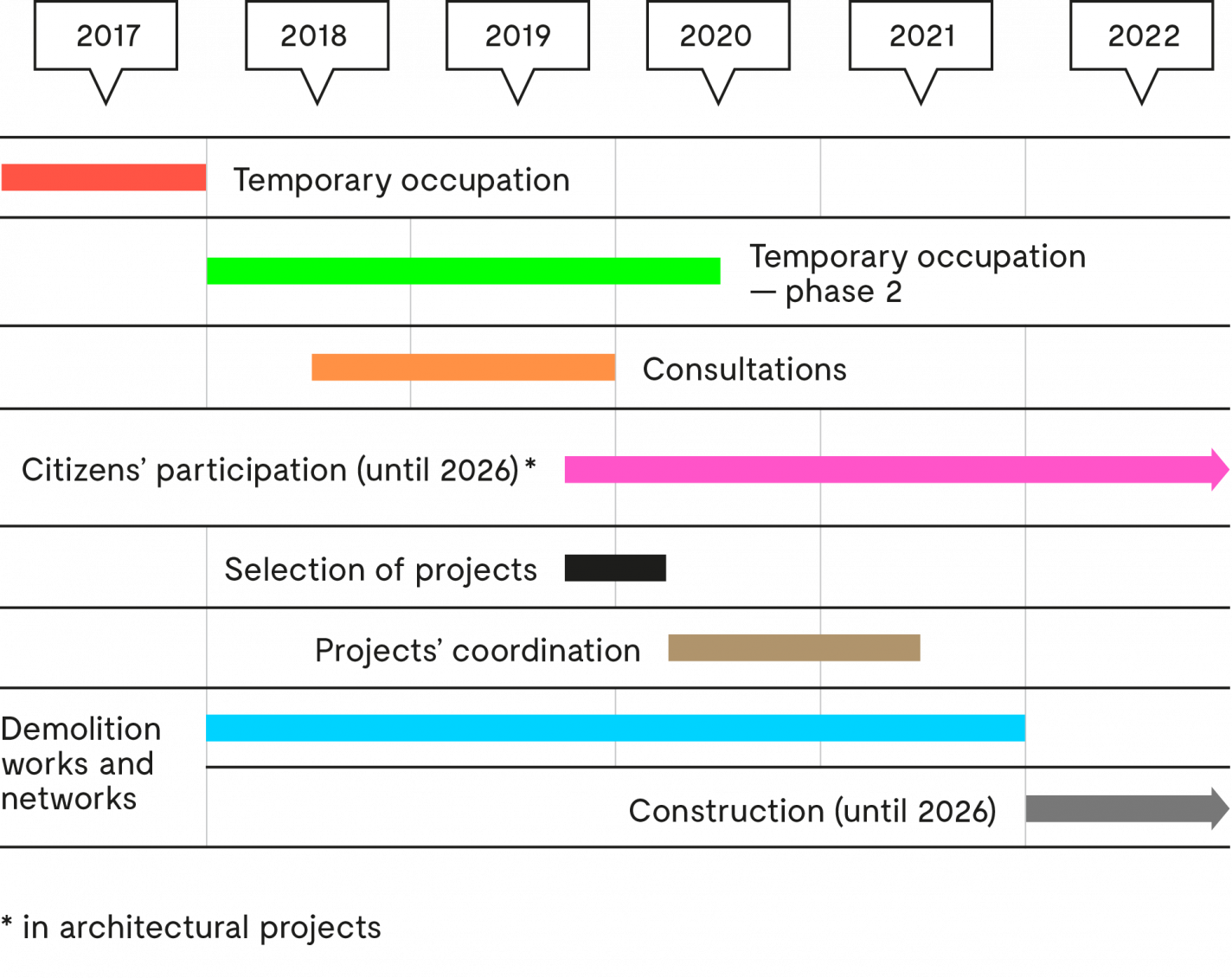 Public and private facilities
Roads, utilities
and landscaping
13,260 sq.m.
Public facilities
5,300 sq.m.
Crèche
School complexe
Gym
Municipal premises

CINASPIC [1]

[1]  a public-interest private arts
and creative centre

4,200 sq.m.
Public transport
Existing
RER B
Metro lines 4 et 6 
Bus 38, 68, Orly Bus
Station Velib'
To come up
Cycle parking
A pooled parking
Immobilier
Housing units
40,200 sq.m.
social (50%),
unrestricted (30%)
mid-range (20%)

Businesses,
retail

9,300 sq.m. (included 3,000 sq.m. of CINASPIC)
Basement courtyards 
Ground floor
Projects
Discover all of Saint-Vincent-de-Paul's programs on the interactive map.
Environmental strategies
The Saint-Vincent-de-Paul project is piloting and implementing all the ecological strategies supported by the City of Paris. The "zero carbon, zero waste, zero emissions" target translates into a restrained approach that combines reinvesting in existing buildings, reusing materials and managing resources.
The production of renewable energy is decentralized to the district by recovering heat from the City of Paris's non-drinking water network, at a temperature of 14°C, using heat pumps.

Download the article on the energy project

Lire l'article : "Stratégie énergétique pour un quartier post-carbone" (FR)

This is a pedestrian neighbourhood served by a single peripheral traffic loop, where traffic is limited to 20km/h, and a transport hub that encourages the use of alternative means of shared transport.

The project has adopted two complementary strategies: "modest development", by preserving and reinvesting in the existing buildings (60% of existing structures) and reusing demolition materials.

Read the article: "Economie circulaire" (FR)

Read the article: "Reuse of materials"

Rainwater is managed sustainably on a plot-by-plot basis, with absorbent surfaces on the ground or at roof level, evaporation-transpiration and seepage thanks to increased biodiversity, collection and storage in the public areas, etc.

Read the article : "Water and biodiversity"

The construction process incorporates bio-sourced materials and structures are designed to adapt to how the development and space may evolve in the future.
Collaborative urban planning
Control of use is the basis of each of the project approaches developed within the Saint Vincent de Paul district. It mobilizes - alongside professional real estate players - future users in the development and subsequent management of programs. The aim is to produce "urban commons"1.
For this, Paris & Métropole Aménagement deploys a tailor-made urban approach in order to select project managers and project leaders according to criteria that maximize these participatory logics.
The mobilization of operators and future users is organized around three broad generic themes:
• Live in Saint Vincent de Paul
• Welcome the emerging economy
• Invent a new interface with the 14th arrondissement.
The first consultations were launched in June 2018 for the marketing of the Lelong building and the design of the shared equipment that will take place in the PINARD building. An ambitious approach to involve future tenants in the design of social housing with the lessors Paris Habitat, on the Chaufferie lot, and RIVP, on the Petit lot, has been launched. It will continue until the delivery of housing units in 20232.
1. Collective dimensions of the district capable of promoting its ownership and the emergence of common initiatives within it.
2. For more information on the process, visit the project BLOG.
Prior consultation
This site was set up by the City of Paris and the Town Hall of the 14th arrondissement to animate the consultation of the Saint-Vincent-de-Paul eco-district project between 2015 and 2016. The site is no longer active but reflects previous stages of the project.
Promenades sonores
Ils sont nombreux ceux qui apportent leur pierre à l'édifice Saint-Vincent-de-Paul : élus, aménageur, concepteurs, associations, acteurs culturels, entreprises... Là on leur donne la parole et on les écoute sur les lieux mêmes de leurs aventures de projet.
Une coproduction Paris & Métropole Aménagement / CAUE de Paris :
#1 - Un autre aménagement est possible - Adeline Chambe, Directrice de l'Aménagement de P&Ma (10 min)
#2 - Le réemploi, faire des déchets une ressource - Noé Basch, fondateur de Mobius (7"35 min)
#3 - Energie, vers la neutralité carbone - Ghislain Mercier, responsable Ville Durable et nouveaux services de P&Ma (7"43 min)
"Laissez trainer vos oreilles"